Good morning,
Well, we are still wearing life jackets around here, along with tethering ourselves to a tree when we go outside.  Between the wind and rain, it is a big blur outside.
I was in the shop yesterday and not only did I suddenly smell the scent of skunks nearby, the wind and rain were in full force that I decided they were all signs to get back indoors.  My shop has very tall, very old, trees surrounding it and I was just sure that one or two might come crashing down.  So far, so good, but considering how many trees are down in our area from the storms, I am going to err on the side of caution.
Today I just want to share a really cool mid-century stool that Alyssa brought to me a few weeks ago.
Although it doesn't have any identifying stamps, I can only believe it is a true Arthur Umanoff – a designer from the 1950's that produced some very unique pieces.
Mine appears to be missing the rush backing (unless he designed some without it, but I don't think so.)
I don't mind the look though.
Here is what it originally looked like…
Source:  Artnet.com
And here are a few of his other pieces…
Source:  1stdibs.com
While my home is more craftsman farmhouse glam (I TOTALLY just made that up) I think it is important to keep a good balance.  It is a tease to the eye – where you can't exactly define your style except to say you just decorate with things you love.  So, I am thinking a set of these would be great at our breakfast bar.  We have been looking for some replacements for what we have now.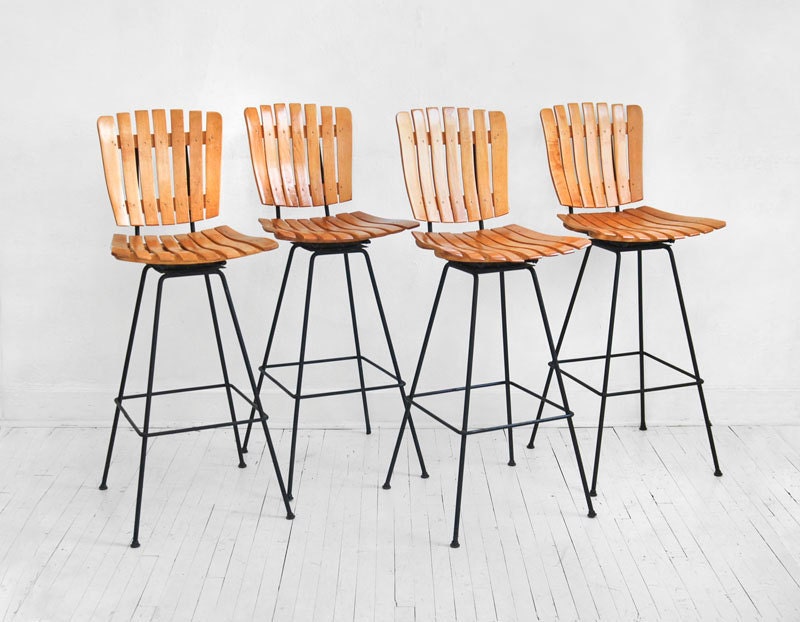 What do you think?  Do you like his work?  Would you put it in your home? 
Be inspired,